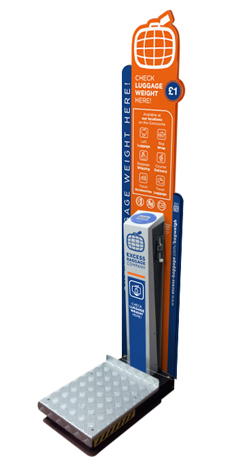 Bag Weigh - Avoid check-in hassle with bag weigh
Our Bag Weigh machines are available in-store to save you time and money and avoid overweight luggage charges.
Our check weigh scales allow you to check your bags weight before check-in, so that you can avoid any unpleasant overweight surcharge surprises! No need to stress in the check-in queue about how much your luggage weighs, with our machines you can check your baggage weight in advance. If your bags are overweight you can re-pack and re-arrange your belongings between other bags or hand luggage
Re-Pack your bag before check-in
No more anxiety about your luggage weight
Avoid unnecessary airline baggage charges
Cost Effective & Convenient Solution
Provides you with peace of mind
It's quick and simple and could save you time, stress and money. If you bags are overweight we offer a range of cost-effective options to help you beat the airline overweight charges.
You can buy a new bag to help you re-pack from our range of affordable luggage or alternatively we can arrange to have you overweight luggage shipped to final destination. Our excess baggage shipping service or one of our courier partners will almost always offer a more cost-effective solution than your airline.
Our other services you might be interested in…
We provide a range of service from our Left Luggage locations to travelling experience. Send your baggage worldwide, have it securely wrapped or even purchase new luggage. Click below to learn more
More